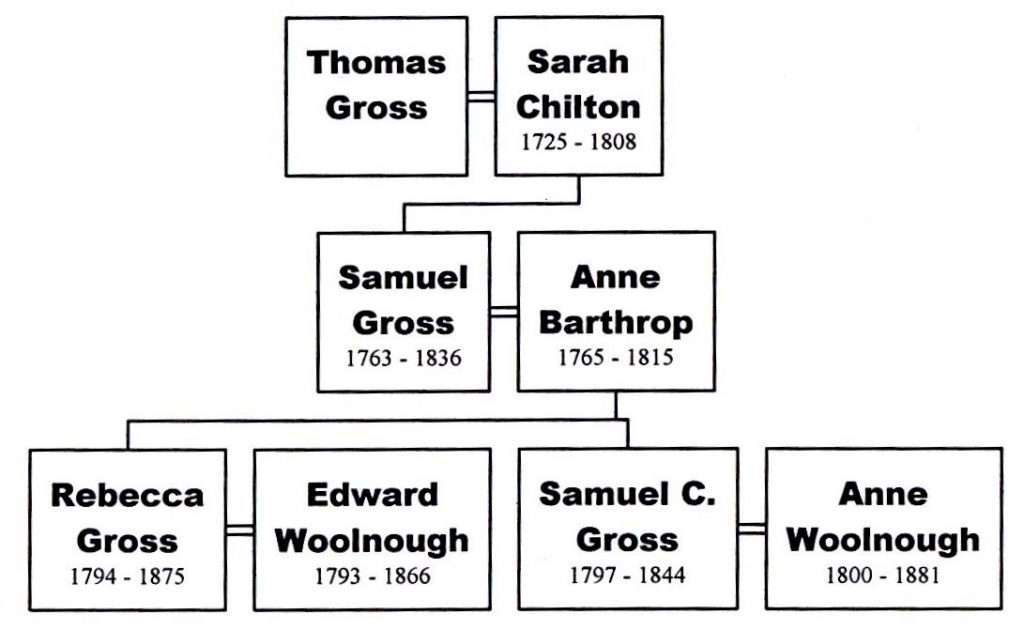 Revd Edward Woolnough was born at Boyton, Suffolk on 5 July 1793, only son of John Woolnough (1758-1834) and his wife Louisa née Moor (1770-1851) of Wantisden, Suffolk, sister of Major Edward Moor (1771-1848) of Great Bealings Hall, Suffolk, who married at Hollesley, Suffolk on 17 December 1788. Ipswich Journal 4 January 1834 records the death of his father:-
On the 29th ult. died in Seckford Street, Woodbridge, John Woolnough, Esq. late of Boyton, aged 76. A gentleman of honour & highest integrity and whose loss will be regretted by all who had the pleasure of knowing him.
And the Ipswich Journal of 22 March 1851 records the death of his mother:-
Died 16th inst. aged 81 at her residence, Seckford Street, Woodbridge, Louisa, relict of John Woolnough, Esq.
Educated at Boyton and at Dedham grammar school being admitted pensioner at Christ's College, Cambridge on 9 November 1812, graduating B.A. in 1817 proceeding M.A. 1823. It is probable that he became acquainted with his future wife from the time that he was made curate in charge of Whitton church and he married at Alderton, Suffolk on 29 March 1819, Rebecca, the only daughter of Samuel Gross and his wife Sarah née Chilton and the young married couple lived with her widowed father at Sparrowe's Nest with Edward continuing his ministrations at Whitton church.
Ipswich Journal 3 April 1819:-
Tuesday last was married at Alderton, by the Hon. & Rev. Adolphus Fitzroy, Edward Woolnough, Esq. of Christ's College, Cambridge and of Whitton, in this county, to Rebecca, only daughter of Samuel Gross, Esq. of the former place.
Woolnough was ordained deacon by the Bishop of Norwich on 17 June 1821, as curate in sole charge of Whitton St. Mary church, and ordained priest on 18 June 1826, he was also curate at Akenham and Henley churches.
The incumbent at Whitton at that time was the eccentric Revd George Drury (1754-1830), sometimes conflated with his namesake grandfather, father and grandson who were all rectors of Claydon, Suffolk. George also held the livings of Akenham and Claydon and died at Glebe House, Claydon on 8 July 1830, his monumental inscription is in Claydon church. The next rector of Whitton, for whom Woolnough would have been curate, was Revd William Howorth (1806-1875) who only took up the living of Whitton in 1835 and where he remained until his death at Whitton Rectory on 13 December 1875.
The first baptism entry by Edward in the Whitton register is dated 1 February 1822. Edward remained curate at Whitton, living at Sparrowe's Nest, until his move to Cheshire in 1849. By his wife Rebecca, who was born at Capel St. Andrew, Suffolk in 1794 and died at Altrincham, Cheshire on 11 March 1875, had eleven children born at Sparrowe's Nest and baptised at Whitton church, four sons and seven daughters, having her last child at the age of 47, none of the sons had issue.
1. Edward Graham, baptised 28 August 1820. Probably educated at Ipswich grammar school and apprenticed to Dr. William Muriel of Wickham Market 1838-43, being elected M.R.C.S. on 25 July 1842.
Ipswich Journal March 11 1843:-
Medical Certificate. On Tuesday, 2nd inst. Mr. E. G. Woolnough, son of the Revd E. Woolnough, Thurleston Hall, near Ipswich, was admitted as a licentiate of the Worshipful Company of Apothecaries in London.
He then spent 18 months at Guy's Hospital, London and the Ipswich Journal August 17 1844:-
Medical Appointment. On the 14th of August, Mr. E. G. Woolnough, son of the Revd. E. Woolnough, Thurleston Hall, near Ipswich was appointed assistant accoucheur [man midwife] to St. Thomas's Hospital.
He seems to have retired, probably due to ill health, and in 1851 was 'not practicing' boarding with Dr. James Young and his family at Burnt Street, Wells next sea, Norfolk where he died, unmarried, the following year.
2 Louisa Anne, baptised 1 February 1822 and died, unmarried at Northenden Rectory in 1854.
3 Mary, baptised 3 September 1823 and in 1854 married her cousin, Samuel Chilton Gross, who was born 21 January 1824, and farmed 250 acres at Bawdsey Manor Farm where they both died in 1887 after having six children between 1855 and 1869. Samuel kept a diary 16 July 1831 to 23 December 1842 which is at Suffolk Record Office, Ipswich.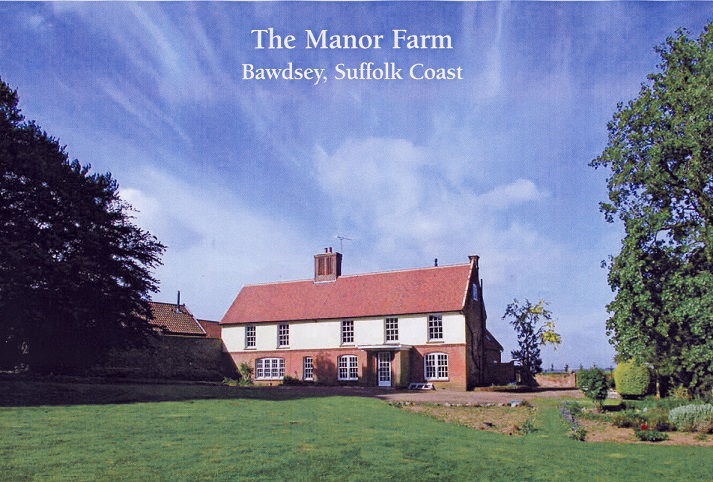 4 John Moor, baptised 13 November 1825, probably educated at Ipswich grammar school and entered the army retiring as a colonel. He lived for many years with his married sister Charlotte, at Ealing where he died, unmarried, in 1902.
5 Sarah Rebecca, baptised 1 April 1827 and died 25 July 1831.
6 Augustus, baptised 20 February 1829 and died 20 July 1831.
7 Caroline, born 28 August 1830 and baptised 2 September the same year. She married at Altrincham, Cheshire in 1864, George William Mould, who was born at Sudbury, Derbyshire in 1835, for many years the superintendent medical practitioner at Manchester Royal Lunatic Asylum, and died in 1919. They had six children before Caroline's death at Stockport, Cheshire in 1882.
8 Charles, baptised 19 February 1832. Educated at Ipswich school 1844-51, then in Foundation Street before its move to Henley Road, and admitted pensioner at Corpus Christi college, Cambridge on 11 March 1851, graduating B.A. (22nd wrangler) in 1855, proceeding M.A. 1859. He was living with his parents at Northenden in 1861 but took a position at St. Martin's, Guernsey where he lived for most of his life. He died, unmarried, at Oxford on 16 September 1908.

9 Agnes, baptised 27 September 1833. She married at Altrincham, Cheshire in 1861, George Chapman Peel, a mechanical & civil engineer, who was born at Fazeley, Cheshire on 6 December 1829 and died at Bath in 1899. Agnes died in 1893 leaving six children.
10 Jessie, was born on 6 September 1839 and baptised four days later. She married at Manchester in 1876, William Clarke, a life & insurance agent, who was born at Altrincham in 1838 and died in 1888. Jessie had five children before her death in 1918.
Notice in the Ipswich Journal of 7 September 1839.
'Birth 6th inst. at Thurleston Hall, the lady of the Rev. Edward Woolnough of a daughter' [Jessie]
11 Charlotte, baptised 28 May 1841. She married at Altrincham, Cheshire in 1869 Laurence (or Lawrence) Matthey, who was born at St. Pancras, London on 9 May 1834 and died at Brentford in 1929. Charlotte died at Brentford in 1924, without issue.
John Moor Woolnough reported in the local press the sighting a meteor:-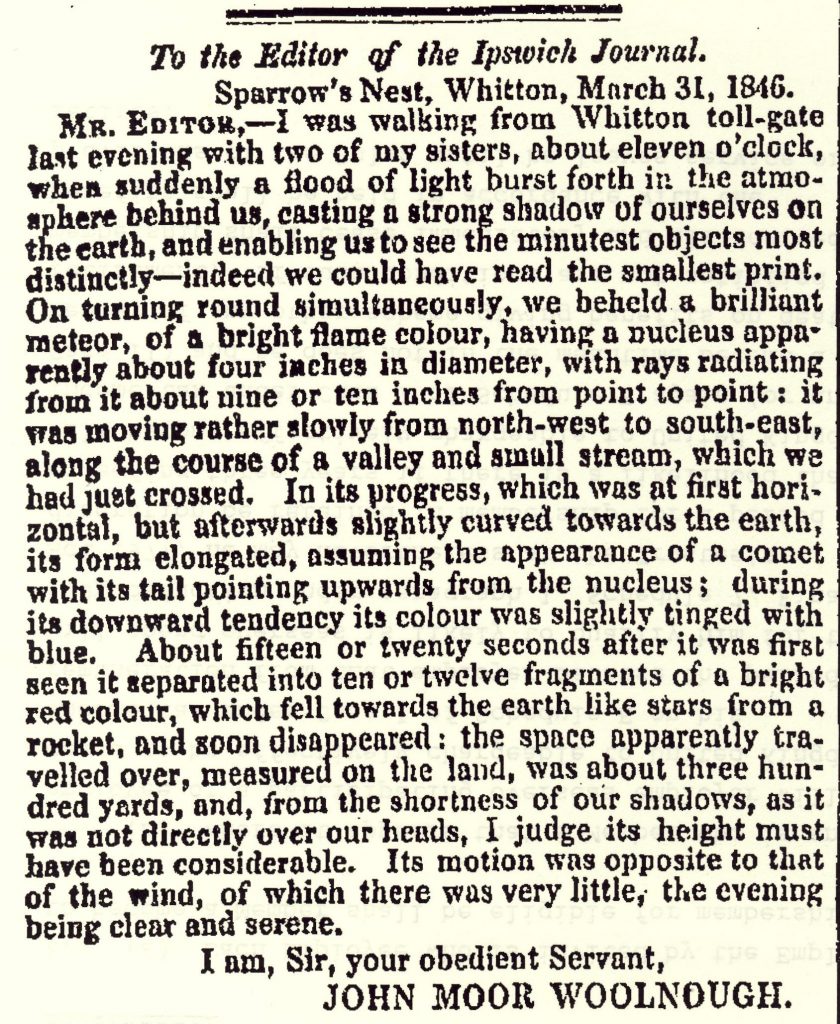 Woolnough seems to have been a generous local parson as this notice in the Ipswich Journal of 30 June 1838:-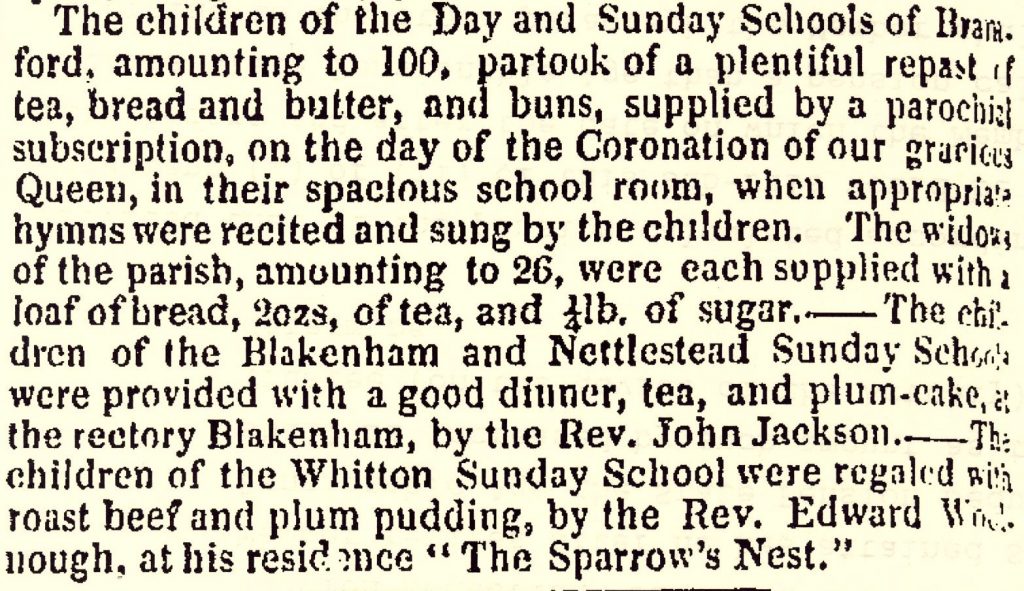 In 1836 tithes were still payable in most of the parishes in England and Wales, but the Government had decided on the commutation of tithes – in other words,  the substitution of money payments for payment 'in kind' all over the country –  and the Tithe Commutation Act was passed in 1836. Three Tithe Commissioners were appointed and the long process of commutation began, with Assistant Commissioners stationed around the country to oversee implementation of the Act. These money payments were not to be subject to local variation. The Act proposed a fluctuating money payment adjusted each year and based on the average price of wheat, barley, and oats.
A survey of the whole of England and Wales was therefore necessary. Enquiries were sent to every parish and township listed in the census returns, and meetings took place all over the country to find out how much commutation had already taken place. The Commissioners then established Tithe Districts to distinguish them from parishes. Most Tithe Districts corresponded with parishes, but the Commissioners could, if necessary, form separate districts. Many parish boundaries came under close scrutiny, perhaps for the first time in centuries, and maps showing these were drawn up. This huge effort to survey the country in the 1840s gives us the first detailed view of the rural landscape of England and Wales.
The only land disposal that had taken place between the time of Burton Phillipson and this survey was of 'G' Deal Close of 7-8 acres which is the field on the corner of Henley/Lower Road to the Turnpike Trustees who built the Toll House. (T66) the balance (T65) being sold onto William Bennett Martin of Dale Hall [q.v.]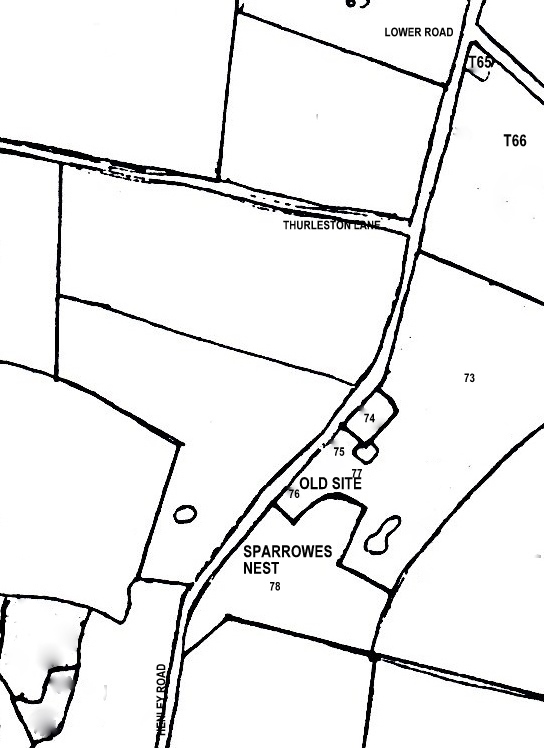 Enlargement of the Sparrowe's Nest site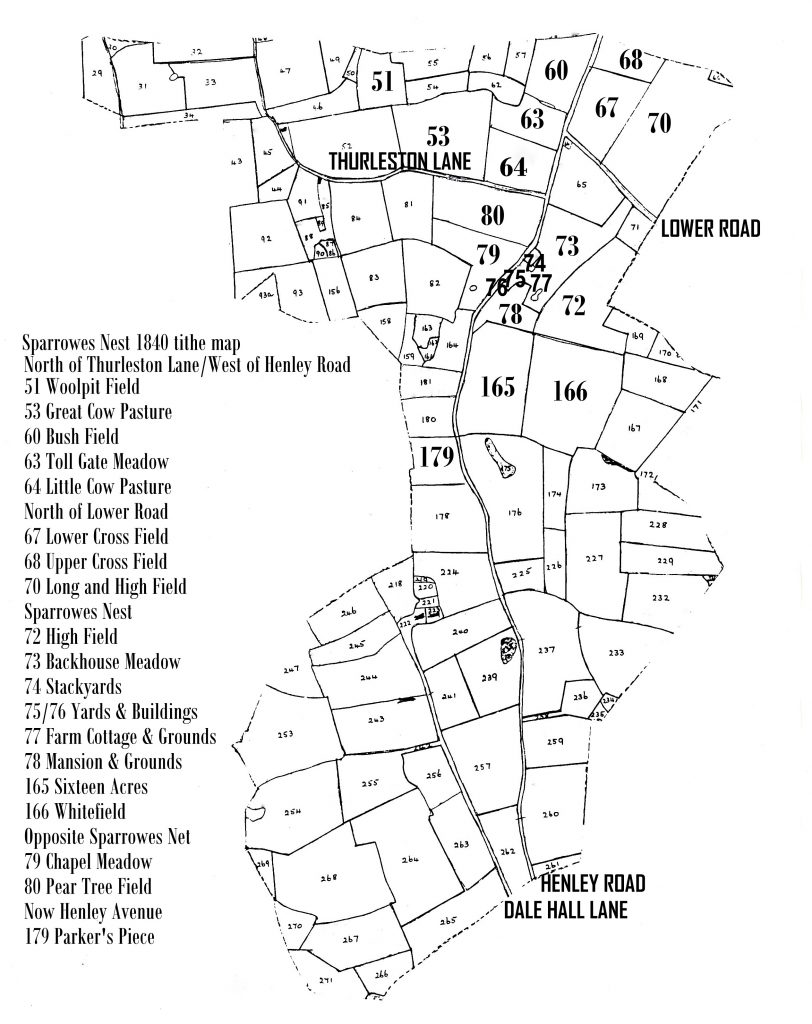 Woolnough also owned 11 acres of arable and pasture, cottage and garden in Whitton occupied by John Harvey and another.
Reading View. Alt Shift A for Accessibility Help.
Woolnough was on corresponding terms with Suffolk historian David Elisha Davy (1769-1851) and a letter from Woolnough to Davy (BL Add. Ms. 19240) reads:-
My Dear Sir,
Some long time since when I had the pleasure of meeting you at Blaxhall you promised to favor me with your company for a few days at the Sparrow's Nest. I now hope for the fulfilment of that promise on Wednesday the 5th of August.
I have written to our friend Ellis Wade and I hope that day will be convenient to you both. Sincerely wishing you nothing may prevent us the pleasure of your visit.
Believe me
Yours very truly
EDWARD WOOLNOUGH
Sparrow's Nest
26 July 1840.
Davy recorded [Add.Ms. 19,093] 'There is a drawing in the possession of the Rev. Edward Woolnough upon a map of the estate the Sparrows' Nest in Whitton, which shews part of the old House, viz. One of the gabels [sic] – of which there were originally five – and he has a medal, which shews the House when nearly perfect. The old House was pulled down by the Rev. E. Woolnough, the present possessor, who has built a new one a little higher up, but still near to the old site; the old Barns remain. The original house is said to have been built [by] or to have belonged to Cardinal Wolsey.' The East Anglian Daily Times of 4 July 1948 quotes 'Robert Sparrowe, portman of Ipswich built himself a house in the parish of Whitton some time in the reign of Charles 1. Only the barn remains of the original buildings the mansion having been pulled down by the Rev. E. Woolnough who built the present house on the site. Both these records are partially incorrect.
Woolnough moved to Cheshire in early 1849, where he was instituted rector of Northenden, a post that he retained until his death on 29 August 1866. Hon. Canon of Chester cathedral in 1860 and archdeacon of Chester 1865-66.
Ipswich Journal January 27th 1849:-
On the 20th inst. the Revd Edward Woolnough, M.A., was instituted to the rectory of Northenden, in the diocese of the county of Chester.
He severed most of his connections with Suffolk in 1849, although he retained the Lordship of the Manor, and the sale of his estate commenced. The manor was later referred to as the Manor of Thurleston, and in 1855 was vested in Edward Woolnough, while the manor of Whitton was said to be vested in John Orford. It later passed to his trustees and in 1916, under the title of Whitton cum Thurleston vested in Henry Orford, it has since disappeared.
The Essex Standard of 20 July 1849 has an advertisement for the sale of Sparrowe's Nest:-

By an indenture of 29 October 1849 Woolnough sells all the land on the west side of Henley Road, opposite to Sparrowe's Nest to Charles Steward on which Stewart built a house, Thurleston Lodge [q.v.], Sparrowe's Nest and the surrounding 168 acres of farmland on the east side of Henley Road, and tithes of some 400 acres were sold to Revd William Charles Fonnereau (1806-1855) of Christchurch Park.
I, Edward Woolnough, of the parish of Northenden, do make this my last will and testament. I appoint my wife Rebecca Woolnough my executrix and my two sons John Moor Woolnough and Charles Woolnough my executors of this my last will and testament. I give and bequeath unto my said wife two hundred pounds for her own use and I direct that the sum to be paid to her within one month of my decease. Also I give and bequeath unto my said wife all my household furniture, linen, plate and plated goods, wine, beer & spirits and all other things appertaining to the housekeeping in my dwelling house at the time of my decease, also my books and works of art. I give and bequeath unto my son John Moor Woolnough two thousand pounds. I give and bequeath unto my daughter Caroline one thousand pounds. I give and bequeath unto my daughter Jessie one thousand pounds. I give and bequeath unto my daughter Charlotte one thousand pounds. And all the residue and remainder of my estate and effects, real and personal whatsoever and wheresoever I do give devise and bequeath unto my executrix and executors in trust to pay the interest dividends unto, rent charges and all the accrued interest unto my said wife Rebecca Woolnough during the time of her natural life, and after the decease of my said wife I give devise and bequeath the said residue and remainder unto my executors or the survivor of them in further first to divide the said residue and remainder into eight parts of equal shares and to give and pay two of such parts or equal shares to my son John Moor Woolnough and one part or equal share to each of my other children. I empower and direct my executrix and executors or the survivor of them not to call in two thousand pounds which I have lent to my son Charles on Note of Hand until three years after my decease unless they shall deem it absolutely necessary so to do. I direct nevertheless that my son Charles shall pay the interest on the said Note of Hand for two thousand pounds. I direct my executrix and executors or the survivor of them to invest all trust money under my will, except the two thousand pounds lent to my son Charles in government securities, bank stock, real estate or companies having a parliamentary charter. Also I direct that my rent charge or rent charges of the parish or hamlet of Thurleston in the parish of Whitton cum Thurleston in the county of Suffolk shall not be sold during the life of my wife, but that the rent charge or rent charges be received by my executrix or executors and paid to my wife during the time of her life together with the rest of the interest or annual increase of the remainder of my estate above mentioned in this my last will and testament. I revoke all other wills and testaments and declare this to be my last will and testament (written on three sheets of paper).
In Witness whereof I have this my last Will and Testament of my hand this 14th day of Octr. 1861 – Edward Woolnough.
Signed and declared by the said Edward Woolnough, the testator, as the last Will and Testament in the presence of us who in the presence of each other and in the presence of the testator and at his request subscribe our names as witnesses – John Lamb – Mary Lamb.
Proved at Chester the 21st day of October 1866 by the oaths of Rebecca Woolnough, widow the relict, John Moor Woolnough, Esquire and Charles Woolnough, the sons, the executors to whom administration now granted.
The estate of the Venerable Edward Woolnough was late of Northenden in the county of Chester, clerk, archdeacon of Chester and died on the 29th day of August 1866 at Northenden aforesaid
Under £10,000 No leaseholder
Messrs. C. J. R. Parry & Gannon } Charles W. Parry, district registrar
I, Rebecca Woolnough, widow give and bequeath to my son Charles Woolnough, the two cabinets of coins, Rudings 'Outline of the Coinage of Great Britain', 'History of Cambridge' and the silver snuff box. To my daughter Mary Gross, all my wearing apparel and the contents of my drawers, work-table & boxes and the six pieces of china which were he grandmother Woolnough's. To my daughter Caroline Mould, the glass and gold vase and her choice of one bowl and dish. To my daughter Agnes Peel one bowl and dish and the pearl book knife. To my daughter Jesse Clarke the small bowl and the similar mug. To my daughter Charlotte Matthey the two grey vases and the assorted china vases. To my son John Moor Woolnough I leave the parish gift and the candlesticks, the corner shelves and the china on them, the gold snuff box, the silver candlestick, the china of Christ's College and the ostrich egg. The other amounts in the drawing room and on my mantel piece I wish my daughters to divide amongst themselves. The trinkets in my jewel box, the pictures and books and give to them where names are attended. Everything else I leave to my son John Moor Woolnough. I desire my funeral expenses to be paid out of the money I have at my disposal and the remainder to my son John Moor Woolnough
December 3rd 1870. Signed Rebecca Woolnough in the presence of James F. Dixon – Jane Dixon, Clarenden Avenue, Altrincham
At Chester on the 2nd day of April 1875. Administration with the will annexed, with the personal estate and effects of Rebecca Woolnough, late of Clarendon Avenue, Altrincham in the county of Chester, widow, deceased, who died on the 11th day of March 1875 at Clarendon Avenue, aforesaid, was granted to John Moor Woolnough, Esquire, the son of the aforesaid deceased, the residuary legatee named in the said will having been first devisee there being no executor named in the said will.
Under £800. No leaseholders } Charles T H Parry
Francis Thompson, solicitor, Manchester } district registrar