Fonnereau leased Sparrowe's Nest, at that time still classed as a farm, to farmer GEORGE DAVID BADHAM, who resided there from Michaelmas 1849 until Michaelmas 1858, and was a noted agriculturalist and animal breeder. Badham was baptised at Bulmer Tye on the Suffolk/Essex border on 16 June 1807, eldest son of David Badham of Bulmer, near Sudbury. Badham, whose brother was Revd Charles Badham (c.1814-1874), vicar of All Saints, Sudbury. A tenant farmer at White Hall, Waldringfield, Suffolk by 1836 when he married at Bocking, Essex on 22 September 1836, Sarah Emma, second daughter of Capt. Walker, R.N. of Bocking and the Ipswich Journal of 24th September 1836 notes:-
'Married 22nd inst. at Bocking, Essex, George David Badham, Esq. of Waldringfield, Suffolk, eldest son of David Badham, Esq. of Bulmer'
In 1849 he decided to quit his Waldringfield farm and advertised the sale of his stock and equipment.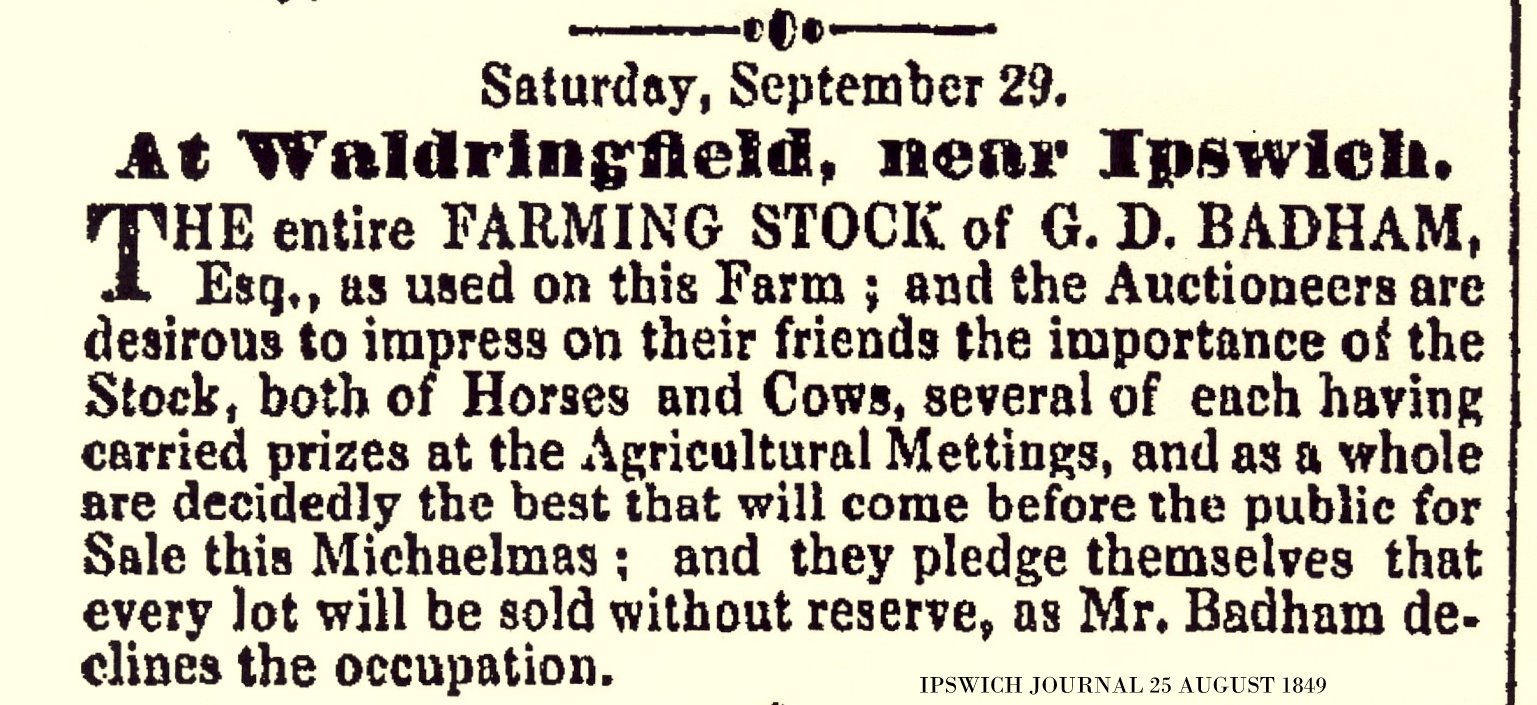 However four weeks later the sale was cancelled as he had taken the tenancy of Sparrowe's Nest.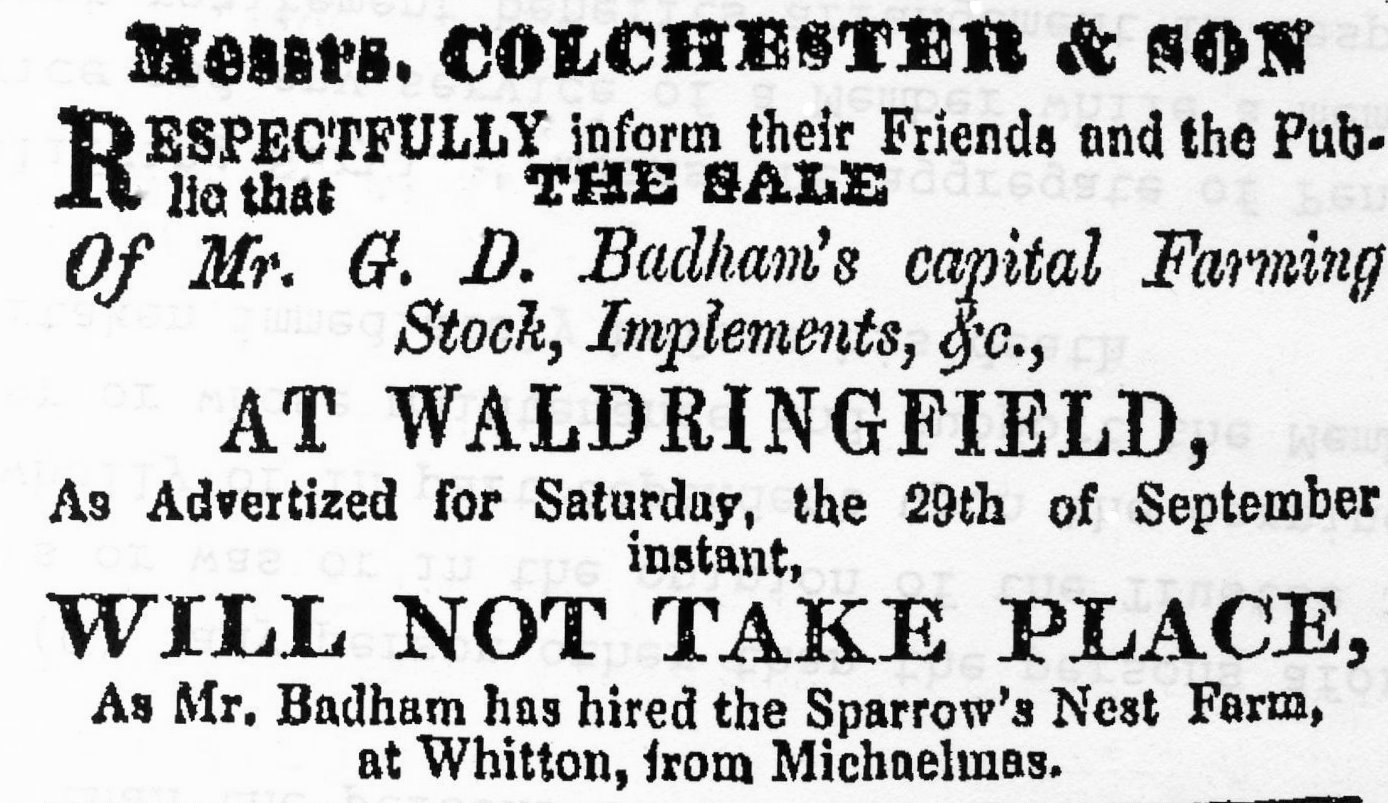 The 1851 census Sparrowe's Nest records:-
George David Badham, 43 farmer Bulmer
Sarah Emma, 32  Bocking
George David, 12  Waldringfield
Benjamin [Charles], 11  Waldringfield
Charles, 9  Waldringfield
Francis, 5  Waldringfield
Ernest Augustus, 3  Waldringfield
William Charles Fonnereau, 46 visitor/landed proprietor
Rachel Barnard, 28 house servant
Mary Ann Woollard, 26 house servant
Ellen Hubbard, 23 house servant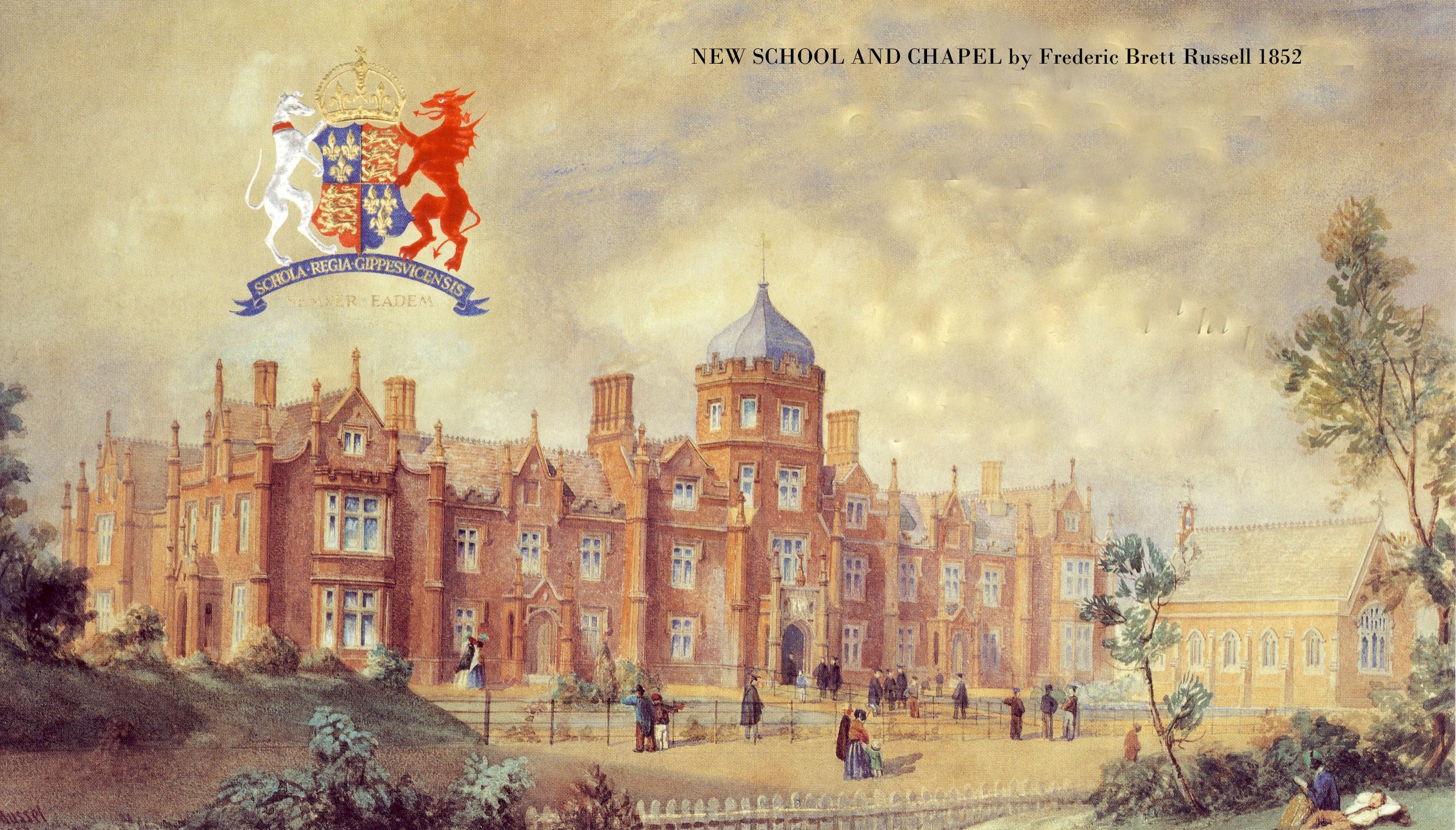 They also had two others sons, one who was still-born at Waldringfield on 15 March 1838, the other Forster William, was born at Waldringfield on 9 March 1843, emigrated to New Zealand where he married in 1874, Margaret Jane Sefton. In the census of 1851 Forster was staying with his grand-father David at Bulmer, he died at Colchester on 10 October 1892. A daughter Alice Maude Mary was born at Sparrowe's Nest in 1852. All six sons were educated at Ipswich Grammar School in Henley Road.
The daughter, Alice Maude Mary married at Bulmer in 1877 Perryman Wakeham Smyth, who was a member of the London Stock Exchange, who died in the Plymouth district in 1920, aged 70. In 1881 they were living at Croydon with their 2 year old daughter Alice Meliscent, who was born at Croydon. In 1901 they were living at Kensington, London and ten years later had moved to Langley Avenue, Croydon. His son Charles married at St. Mary Stoke, Ipswich on 30 December 1892 Mary Rebecca, eldest daughter of Charles Foote Gower of Nova Scotia House, Ipswich.

Badham's wife Sarah died at Sparrowe's Nest on 27 May and buried at Whitton St Mary church on 2 June 1854, the announcement of her death is recorded in the Suffolk Chronicle of 3 June 1854:-
On the 27th ult., at the Sparrowe's Nest, near Ipswich, aged 35, Sarah Emma, the wife of G. D. Badham, Esq.
Badham voted as farmer at Whitton cum Thurleston in the Ipswich election of 28 March 1857 but on 27 September 1858 sold up his farming stock and equipment at Thurleston and returned to the family 250 acre Jenkin's Farm at Bulmer. He married again at St. James's church, Paddington on 2 November 1858, 34 year old Marianne, who was born in India, daughter of David Barlow.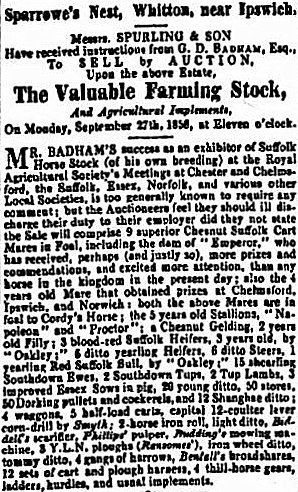 Badham died at Bulmer on 19 November 1877.